The Skin Care Pyramid: Daily Prevention
January 17, 2022
By: Douglas M. Leppink, MD, Board Certified Plastic Surgeon
With the new year upon us, many of us are taking stock of our lives. This time of year tends to spark the need to consider our routines and activities, and seek opportunities to improve the areas of our lives that aren't quite working. If skin care isn't a priority for you, now is the perfect time to consider establishing a healthy and effective daily regimen.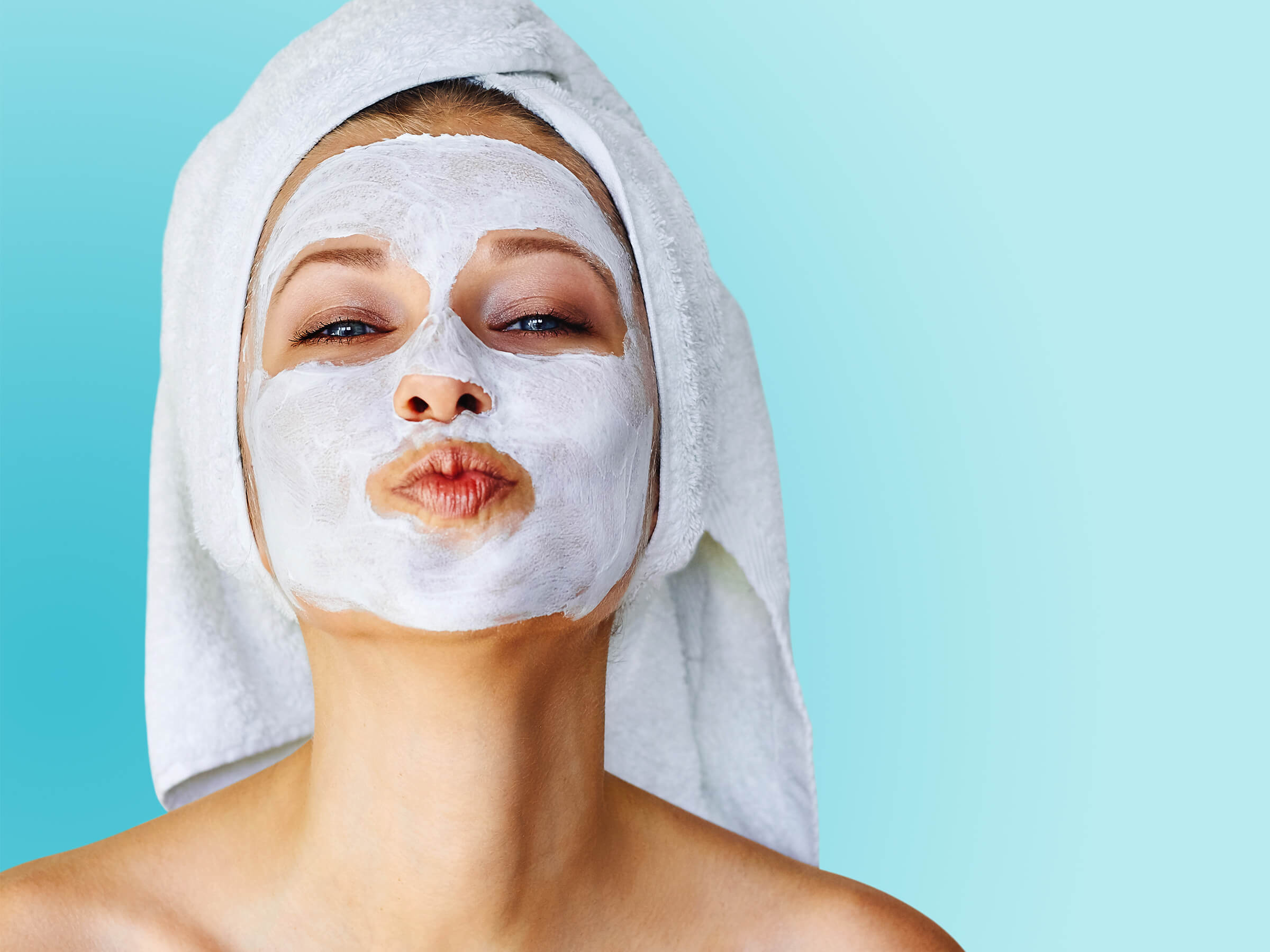 Why is daily skin care so important?
Your skin is the largest organ in your body. It's what protects our bodies from the environment around us. Skin serves to stave off damage to our vital organs from external factors like bacteria, chemicals, and temperature changes. As we age, the skin thins. It's protective functions become less vigorous and it begins to show damage with visible signs such as lines, wrinkles, discolorations, laxity, fat loss, and other blemishes. Incorporating an effective skincare regimen into your daily routine can help you to maintain the healthy aspects of youthful skin— and it doesn't need to be complicated.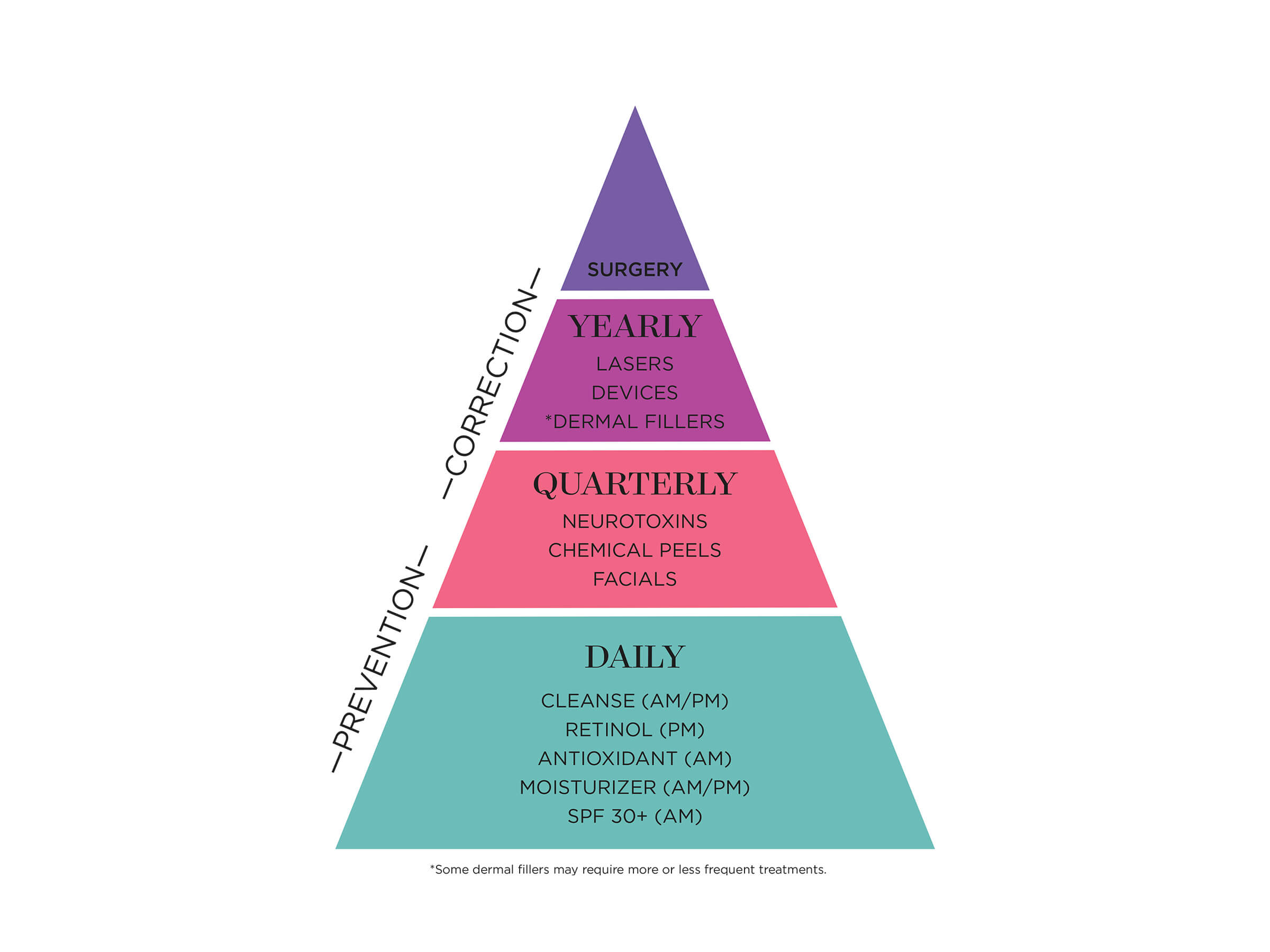 Skincare products are part of the base that holds up all other measures.
Countless studies have shown that a simple daily skin care routine can help to prevent the unhealthy changes that occur in your skin during the process of aging. The "skincare pyramid" is a very useful descriptor for understanding the role that the different measures in medical skin care can play in supporting healthy skin. The one shown here explains the hierarchy of the products and services that we offer at the Centre for Plastic Surgery and Pure Skin. It begins with prevention, and then ascends to correction (which we will discuss in later blogs). It's important to note that other healthy habits are vital to the fitness of your skin and body. First and foremost, your skin needs hydration. Drinking enough water each day is crucial. A diet rich in nutrients such as Omega-3 fatty acids, antioxidants, vitamins, and minerals is also essential to the health of your skin.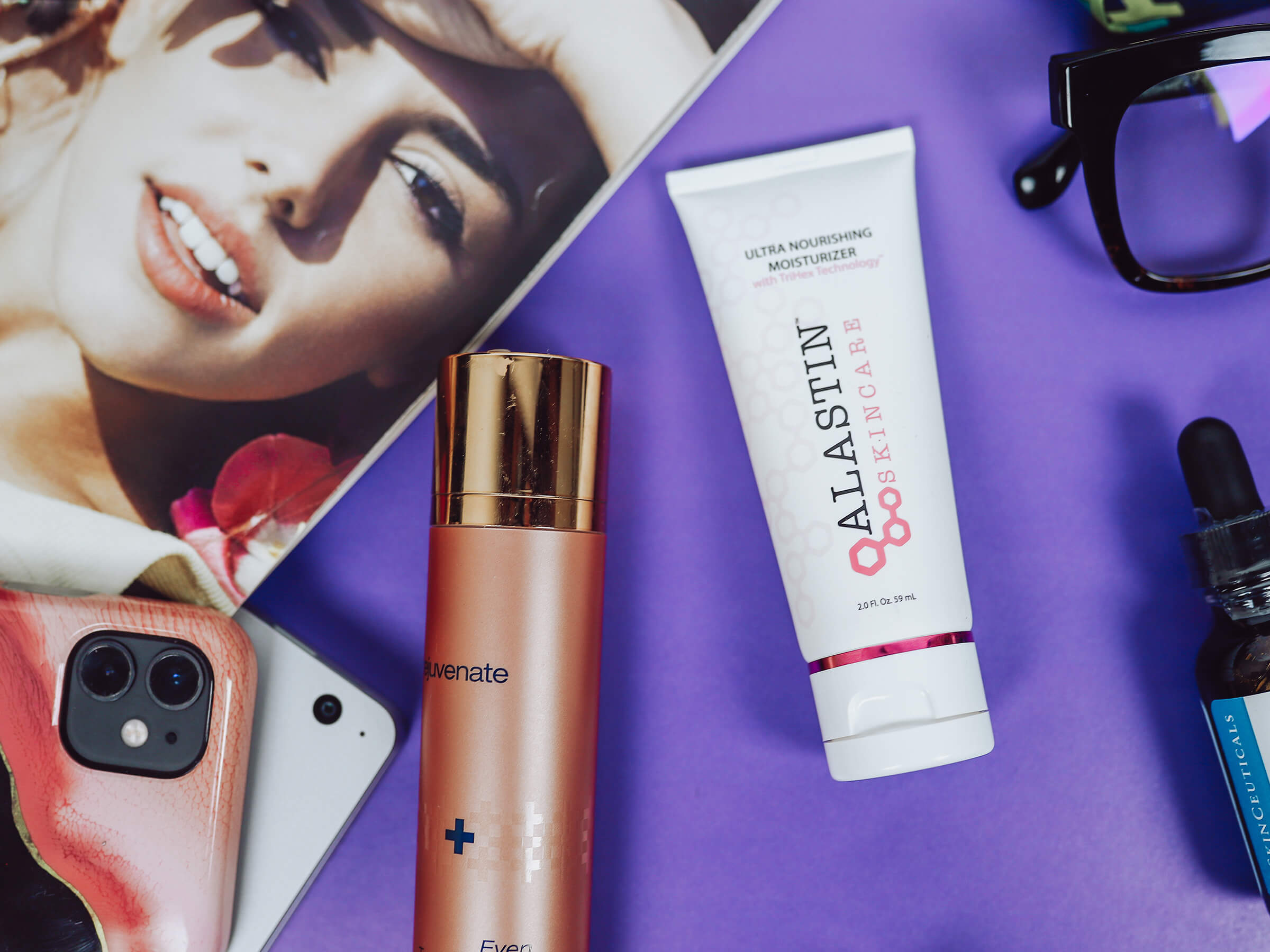 Which skincare products do you recommend?
Healthy skin is best supported and protected with three main types of products; retinols, antioxidants, and SPFs. These products each contribute to the function of skin cell regeneration. It's also important to choose a daily cleanser that does not strip away the good oils that are necessary to balance the skin. A moisturizer may also be needed to aid in hydration.
Here are a few examples of products that I trust and recommend:
Gentle Cleanser: Alastin® and SkinCeuticals® both offer great gentle cleansers that remove the material that accumulates on our faces such as makeup, excess oil, and sweat. Skin should be cleansed twice daily in the morning and evening.
Antioxidant: SkinBetter® Science Alto Defense Serum infuses the skin with a multitude of antioxidants that are crucial to the stabilization of your skin. It works to remove the free-radicals that attack our skin cells and trigger the unhealthy changes that we experience over time. This product has shown to be very effective and simple to use with its one stage application. It should be used at least once daily in the morning, but some patients prefer to apply it in the evening as well.
Retinol: SkinBetter® Science AlphaRet® Overnight Cream stimulates cell turnover and activates a skin thickening response while you sleep. One benefit of this particular retinol is that it's patented delivery system neutralizes the irritation that is often attributed to the use of these types of products. It should be applied in the evening only.
Moisturizer: Alastin® Ultra Nourishing Moisturizer soothes, hydrates, and helps to nourish the collagen and elastin in your skin. It can be applied once or twice daily, as needed.
SPF: SkinBetter® Science SunBetter Advanced Mineral Protection guards skin from the radioactive light exposure that is the culprit behind most skin damage. This all mineral formula protects the skin from a wide variety of harmful rays such as UVA, UVB, Infrared, and even the blue light emitted by our devices. It should be applied at least once in the morning, but can be reapplied throughout the day for an even more effective shield.
Recap: Here is the order that you should be applying your products (no matter the brand). In the morning- (1) Cleanse (2) Antioxidant Serum (3) Moisturizer (4) SPF. In the evening- (1) Cleanse (2) Retinoid (3) Moisturizer.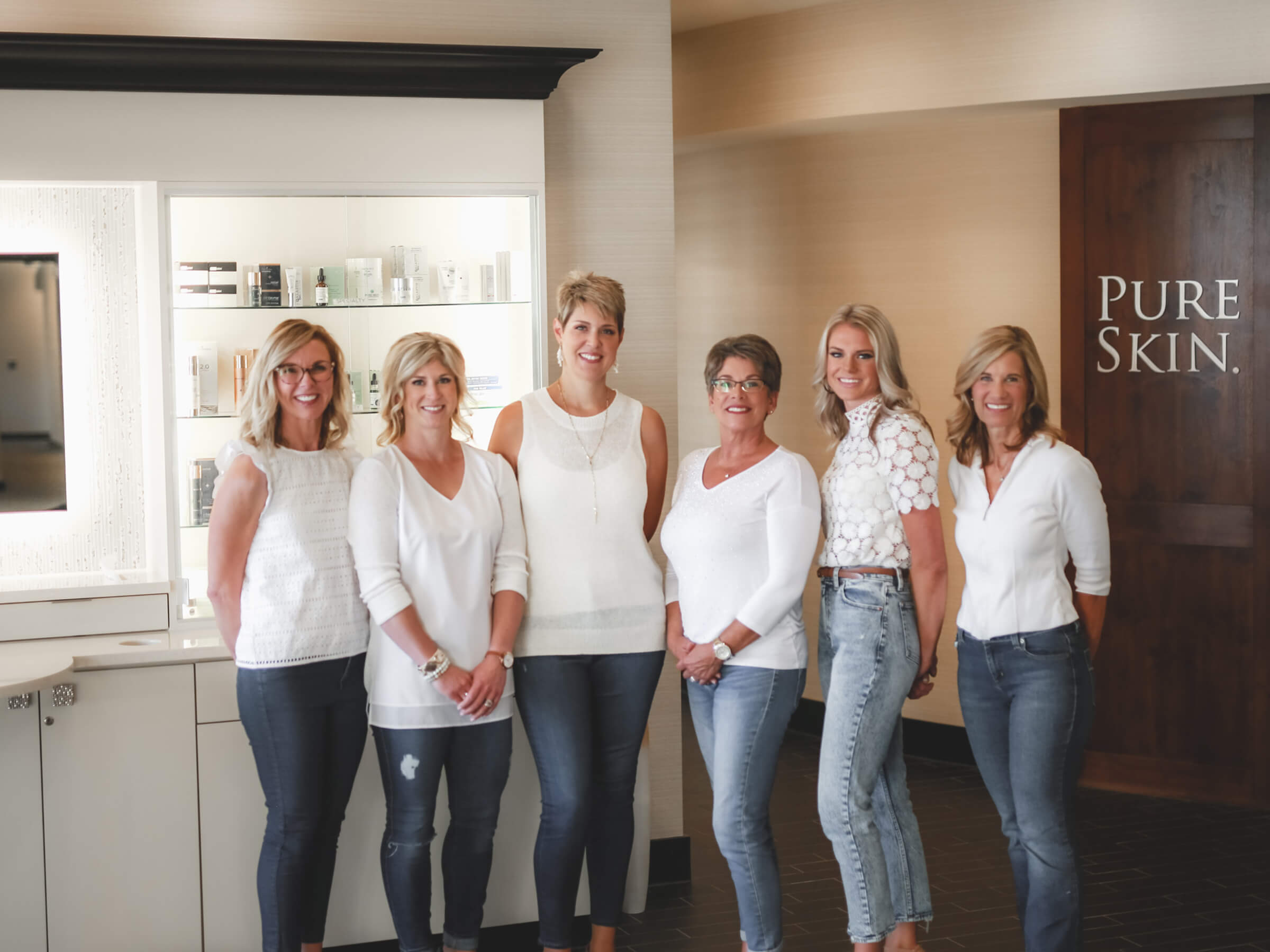 How do I know if these skincare products are right for me?
I've consistently found these products to be effective for many of my patients. However, I suggest that you schedule a consultation with one of our Pure Skin experts to determine which products and/or services are right for you. They will educate and empower you to select the skincare products that best fit your needs, your goals, and your budget. Once you've established a great regimen, you can easily replenish by stopping in to shop our beauty bar, contacting the office, or visiting our online store.

< Back